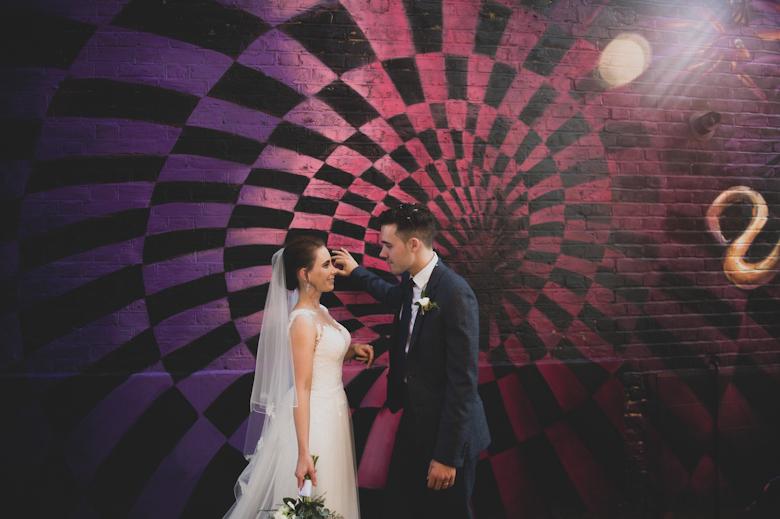 THE HOXTON HALL WEDDING PHOTOGRAPHY
If you're a fan of theatre, fashion, and elegance, then the Hoxton Hall wedding of Alice and Adam ticks all those boxes and some. London wedding with a beautiful stylish bride and groom, blingy bridesmaids, an amazing ceremony on an intimate stage at the Hoxton Hall. It was magical, dark and emotional. Just imagine getting married on a little stage in an intimate theatre, London's hidden gem. This beautiful ceremony was followed by a full dance floor fun. This alternative wedding photography was a pleasure to capture.
"Dancing, Sparkles, Fun!" That's how Alice and Adam described their wedding day. There really isn't much not to love about their day, what a stunning London venue as the location and incredible greenery florals throughout.
A Stylish, Fun and Beautiful Day
Alice and Adam chose to wed on the 2nd September 2017 with a botanical and gold sequin theme. The foliage really provided the perfect backdrop for the sparkles, especially the gold sequin bridesmaids and beautiful greenery bouquets. The style didn't end there though with Alice wearing an amazing tulle gown by Maggie Sottero and Adam donning a timeless Reiss suit.
The theatre venue really set the tone for the day and the golden frame at the ceremony looked stunning. There are so many wonderful wedding ideas here that I think it will really inspire you. This Hoxton Hall wedding was definitely an amazing celebration of love.

Hoxton Hall History
The building was originally built in 1863 by J. Mortimer, with the intention to combine instruction with amusement. When the hall was built it was called Mortimer Hall. The hall was bought by James McDonald and renamed McDonald's Music Hall, where it continued to be an affordable venue to entertain the working class with acts music performances, circus or even performing dogs!
McDonald's Music Hall was quite a success. Such was its popularity that in 1867 James McDonald enlarged the building by raising the height of the Hall, adding a new upper balcony, and extending the previous rear balconies.
As their popularity grew, purpose-built buildings began to emerge, the Britannia Theatre in Hoxton opened in 1858 as a lavish purpose-built venue, entertaining the likes of Charles Dickens. Hoxton Hall, opened a few years later, in 1863, a more modest hall. Unfortunately, the music hall era didn't last long and by 1871 McDonald lost his licence.
From 1878 Hoxton Hall was home to the Girls Guild for Good Life. The group was founded by Sarah Rae. The club ran for many years, into the 20th century and had a substantial impact on the lives of local girls and women. These clubs were popular in the half of the 19th century and were largely intended for working girls in an attempt to steer them away from 'undesirable' pastimes such as drinking and gambling.
The Blue Ribbon Gospel Temperance Mission moved into Hoxton Hall and managed the property between 1879 and 1893. They were an international movement that promoted sobriety.
The development of Hoxton Hall's current community arts programme owes a sincere debt to the energy, compassion and creative thinking of May Scott, who joined Hoxton Hall during the Second World War and became warden. Today our different programme of professional performances, youth arts work and events are a testament to the rich and varied past of Hoxton Hall.